Summer officially began this week. I certainly am not  a fashionista but I pay attention to what's in style. What's really important to me is that my wardbrobe does double duty. On any given day I fill the following roles: sales consultant for a web development company, student, wife, mom and community volunteer.
That's why my new wardrobe favorites are white jeans, fancy t-shirts and gladiator-inspired strappy wedge sandals.
I have a curvy shape and long legs. For $20 I picked up a pair of Gap Curvy Straight white jeans at a local outlet.  The jeans I bought are straighter, but these are awesome too!

White jeans can be paired with a dressy blouse and a blazer for casual business meetings or with a t-shirt for running errands.
That brings me to my next favorite – embellished and bright t-shirts. They are worth every penny. A good t-shirt can be worn with a suit or jeans. I picked up this one and have worn it at least once a week since I got it!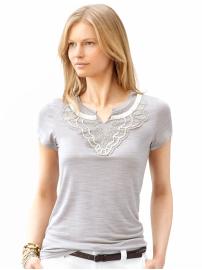 I got this one in gray, as pictured from Banana Republic.
I also picked up this one in a pretty coral coral color. I wear it all the time too!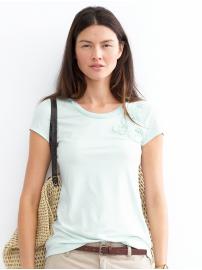 I also got these sandals from Banana Republic. They are really comfortable and  super stylish.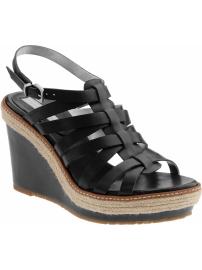 My picks are perfect for a weekend getaway. Just throw in a jacket, a denim skirt or dress with a pair of flats and you're all set. I'd love to hear what your must-haves for this summer are! Feel free to post.